The Félibrige
The "Félibrige" was a literary association founded by seven Provencal friends, on the 21st of May, 1854 at the Castle of Make-Ségugne located in Châteauneuf-de-Gadagne (Vaucluse).
Frédéric Mistral, Joseph Roumanille, Théodore Aubanel, Anselme Mathieu, Jean Brunet, Paul Giera and Alphonse Tavan called "The Félibres", together intended to restore the language and the literature of Provence by codifying its grammar and orthography.
The "Félibres" wrote "Armana Prouvençau", writings in which are described the Provencal events and festivals, but in particular, the history of Provence.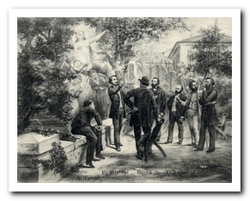 LES FÉLIBRES
Located in the heart of Provence, the small city of Eyragues honnors the seven poets of the Félibrige, whom permitted the survival of the provençal langage
A statue of Frédéric Mistral and the busts of Joseph Roumanille, Théodore Aubanel, Jean Brunet, Anselme Mathieu, Paul Giéra et Alphonse Tavan welcome visitors at the south entrance of the "Parc des Poètes"
In the background, one can see the "Bastide" which is an old Manor house restored by the city. On the ground floor stands the museum and at the first ground a meeting room for conferences and concerts.