The poet Paul GIÉRA used the language of Provence and was one of the seven original félibres,créator of the Félibrige. He was born on January 22nd 1816 in Avignon and dies on April 26th 1861 in the same city.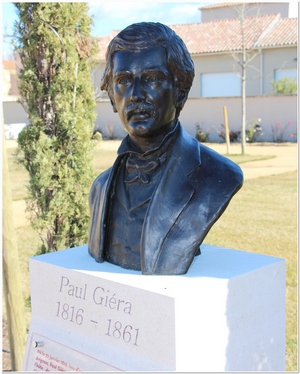 In 1846, when he was clerk of a notary, he bought a study in Avignon with his brother Jules, located 41 rue du Four de la Terre.
At that time, he was living in a private mansion of the XVIIème century, at the 15 rue de la Banasterie.
His family owned the castle of Font-Ségugne, place where the Félibrige was created.
He met Joseph ROUMANILLE and Théodore AUBANEL at a charity meeting. His profession of notary left him enough time to write original and full of fantasy poetries. All of them are signed under the pseudonym "Glaup" or "Lou Felibre ajougui".
It was not his goal to become a famous person.
After his death, his writings were assembled by his friend Joseph ROUMANILLE under the title "Li Galejado", and included in the booklet "Lou Liame de rasin".