Théodore Aubanel was born in the papal city of Avignon.
Born in a printers family (Printing compagny of "His holy pope and the archbishop of Avignon"), he first studied with the priests in Aix-en-Provence, and came back afterwards to work in the family's printing company.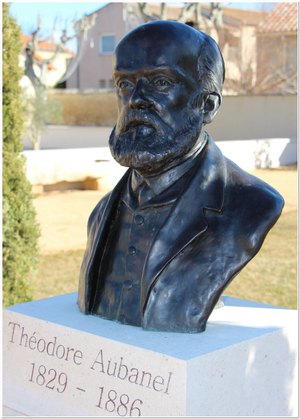 Melancholic and utopian poet, he first wrote booklets of drama and lyrical poetry.
Even if the language of Provence is rarely spoken in his middle-class family, Théodore Aubanel sees that this language is alive all around him : in each street of Avignon and in its countrysides, even in his house where an old uncle doesn't want to speak any other language.
Thanks to Joseph Roumanille, he was able to meet Frédéric Mistral and Anselme Mathieu. Then, he joined the group called "The primadié», and in 1854, participated to the foundation of the Félibrige at the castle of Font-Ségugne. Along with Frédéric Mistral and Joseph Roumanille, he became one of the main actors of the Félibrige.
His first poetries will be published by his friend Joseph Roumanille in "Li Prouvençalo", en 1852.
In 1860, he published "La mióugrano entre-duberto" (La grenade entr'ouverte). In this book he talks about his lost love for "Zani" had a nice success in the literary world. But this writing is criticised by the catholic people from Avignon with whom he is quite close, and the book could have put the family printer company in danger because it had the Archdiocese of Avignon as major customer.
He finaly got married on April 15th 1861 in Avignon, with Joséphine Mazen. He refound his joie de vivre and continued writing but stopped publishing them.
His writings will be published after his death by the family printing company "Aubanel" : Lou Rèire-Soulèu (« Le soleil d'outre-tombe ») in 1899, booklet of poetries which unites his two drama, Lou Raubatòri (« The abduction ») and Lou Pastre (« The shepherd »), that Theodore Aubanel abandoned after the papal sanction.
Indeed, in 1885, his very sensual poetic booklet "Li Fiho d'Avignoun" (« Girls from Avignon ») had for consequence his exclusion from the catholic society of Avignon. The archbishop of Avignon forced him to withdraw his book from the market.
He came out of that experience completely broken and demotivated.
He died on Octobre 31st 1886 in Avignon in the family home (9, Place Saint-Pierre in Avignon) after a stroke he had a few days before. He is buried in the cimetery Saint-Véran in Avignon.
One can see a sculpture of his bust in the garden Agricol Perdiguier in Avignon (Vaucluse), in the garden of the Félibres in Sceaux (Hauts de Seine) and since 2017, in the Parc des Poète of Eyragues (Bouches-du-Rhône).